A rapid, efficient, and user-friendly website that performs better in search engine results may be produced by implementing SEO techniques. Websites that have been optimized by SEO services Ahmedabad tend to get more visitors and have higher conversion rates.
When you prepare your website for SERP rankings, you increase brand recognition, and your customers begin to trust you. Optimizing your website for SEO Ahmedabad will help you develop a robust online presence and attract new clients.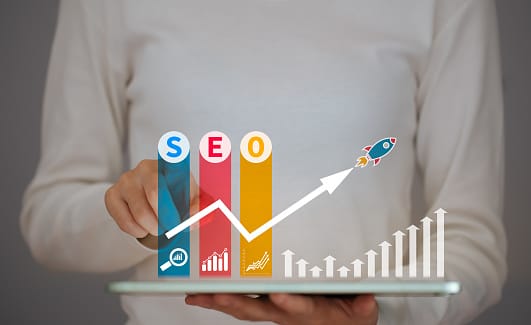 We have mentioned a few sophisticated SEO tactics that you may use for your website:
Return to More Concise Meta Descriptions:
You read that correctly! Bid farewell to lengthy metadata! Google has reverted to its former meta-description character restriction of 158-160 characters. And it would be best if you had this in mind. Attempt to condense all information about your meta-click-driving description's factors into the first 150-155 words. It should be concise, pertinent, and dense with relevant information.
Concentrate on Speed Loading:
A website is a lot more than just a place to get information. Rather than that, they are assets that assist visitors in determining precisely what they desire. And all of this has to be done in the shortest amount of time feasible. The less time required for a searching session, the better it is. If your website's loading time is slow, you may see significant bounce rates.
Enhance the User Experience:
Today, SEO is about more than refining a website for search engines; it also aids in the development of a smoother, more user-friendly website. The goal of contemporary SEO is to improve the user experience.
A well-structured and attractive website encourages visitors to remain longer, lowering bounce rates and increasing page views. Similarly, a website that has relevant information keeps visitors engaged.
Enhance Your Voice Search Ranking:
In contrast to input terms into a search query, voice search allows users to talk into their device to get results. Though it may appear to be a novel notion, the technology is not new.
Due to the tremendous improvement in user experience provided by voice search, Google is placing a greater emphasis on voice search optimization. Hence, your website must be optimized for voice search.
Utilize Relevant Keywords:
Among all sophisticated SEO tactics, effective keyword usage is critical. While generating the content for your website, you must preserve its tone and the organically occurring emphasis keyword.
To improve the performance of your pages, you may undertake keyword research using the Google AdWords Keyword Planner. It gives you search volume statistics and information about the terms targeted by your competition.
Prioritize Ranking for Mobile Devices:
Following Google's Mobile-first indexing initiative, which aims to make the website more user-friendly, it is becoming critical for all website owners to have a mobile version of their sites.
Internal Links Are Required:
While reading an intriguing blog, we occasionally come across a link that motivates us to visit another. Then the following, and the following. Internal connecting is a term that refers to this.
It is critical since it aids in the development of a more robust framework for your blog. Not only that, but it also decreases your bounce rates, which is beneficial for SEO.
SEO services Ahmedabad is among the most cost-effective methods for organically growing your brand's popularity. When you position your business at the top of the Search Engine Results Page (SERP), you get a significant number of visitors. However, to improve your SEO results, you must implement these cutting-edge SEO strategies.
Read related blog here: